Session period 21:00 – 23:57, transit start ~21:16 and end ~00:05
Started with Lum autofocus at 21:17 but on changing to the Red filter the HFR rose to 8.5 so refocused on Red at 21:20, position 60789, HFR 3.97 at 21℃. The change in HFR was more likely the warm sky and seeing conditions.
Restarted imaging at 21:39 at new Gain 10 and Offset 10 with a 15 second exposure to get the exposure down well below the 65k max to around 35k. The target star is a magnitude +7.69 so the initial Gain 139 Offset 21 and even Gain 75 Offset 12 were too high even at 10 seconds exposure.
We started with no delay in between the exposures until the start of the transit, then decided due to the large amount of data (35GB) being collected we should put a delay in which we did of 60 seconds. In hindsight we should be placed a smaller delay period in 15-30 seconds to allow us to gather more data points for the transit period. We have emailed the ESA team to start a conversation on planning exposure/delay settings for transits.
We then finished was forced to finish before the projected transit was completed when the clouds rolled in, and took Dark, Bias and Flats frame at Gain 10, Offset 10 ready for the analysis software.
After reviewing the data and the monitoring graphs it is obvious that the less than desirable Sky Temperature showed it was not truly clear. Below is the effect of high haze and cloud passing across the sky during our observation session. It should be noted that we have not had sky with a reading <= -18℃ since mid July.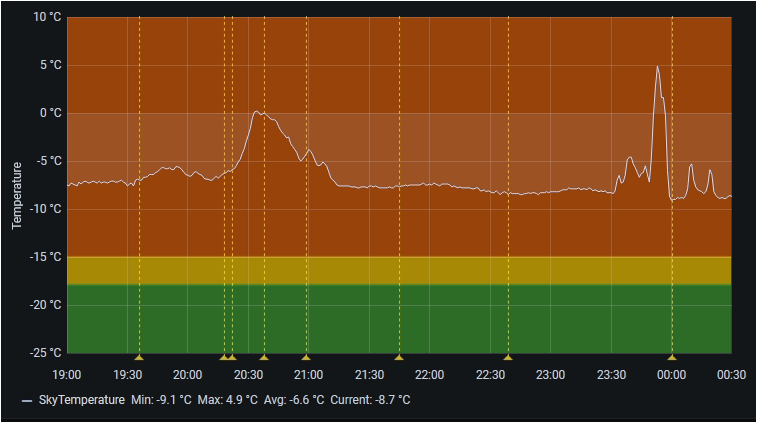 How much impact this has on the observation and measurements we will discuss with the Exoplanet team.