21:58 – 02:02
Just setting up for an imaging run and to test imaging without temp compensation to see if the 12″ keeps focus without it. I started by myself then was joining by GingerGeek and then Bob.
Performed a SGPro autofocus run on Mag 7 star produced focus position of 71,828 @ 4.6 HFR at 14.47℃.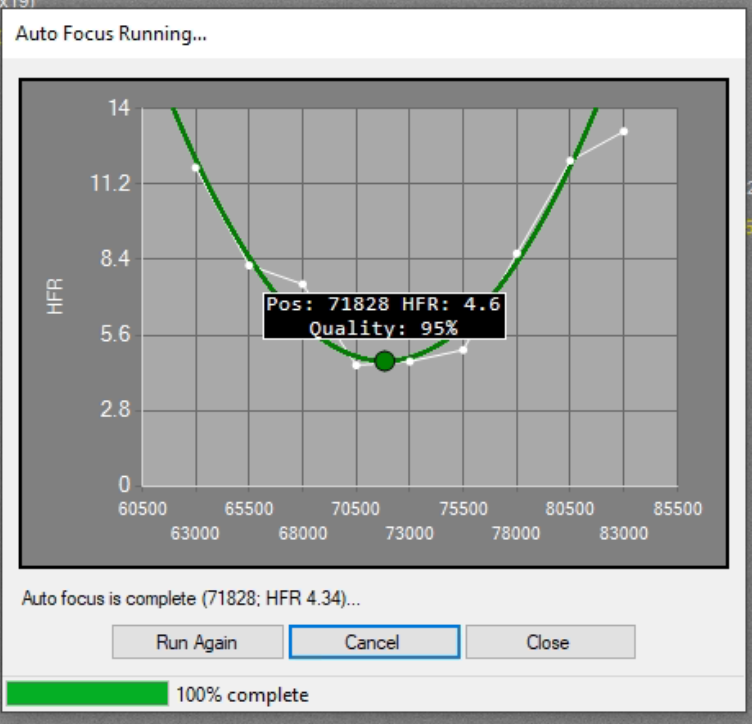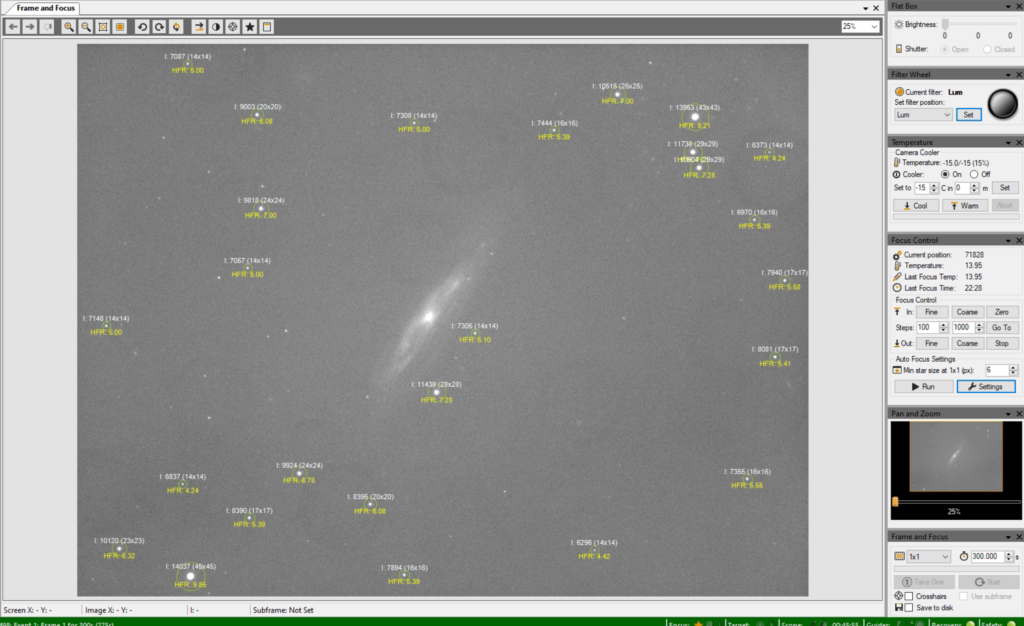 The resulting image was good with good star shapes. Although I suspected at this point the seeing was not excellent.
I let the sequence run for a bit imaging M98 through LRGB and then decided the HFR was gradually getting larger so I performed a 2nd Autofocus run which came in at position 72,215 HFR 5.7 at 13.97℃.
Again I let the sequence continue for at least 4 images and the performed another Autofocus run, note all the time this was on M98 and not slewing away to another star. This came in at focus position 72,697 @HFR 5.7 at 13.82℃.
I continued this routine again and performed another Autofocus run on M98 focus position 73,441 HFR 5.4 at 12.98℃.
I then decided, due to struggling to get a good HFR on focus runs to see if the autofocus was introducing an issue so I changed the autofocus setting from 9 data points to 11 data points to try and get fuller deeper curve. The resulting curve was better and more complete on both sides of the U shape. I then imaged further and then attempted an autofocus with the settings change for the step size from 2500 to 1500 and data points from 11 to 15. This was because I felt we always have a flatfish bottom to the autofocus which at this focal length of 2.5m shows the quality of the seeing with a narrower flat bottom being better seeing. The new autofocus came in at position 73,534 HFR 5.1 at 12.66℃. Meanwhile we kept noticing satellites going across the ASC which I now believe are potentially StarLink so very annoying.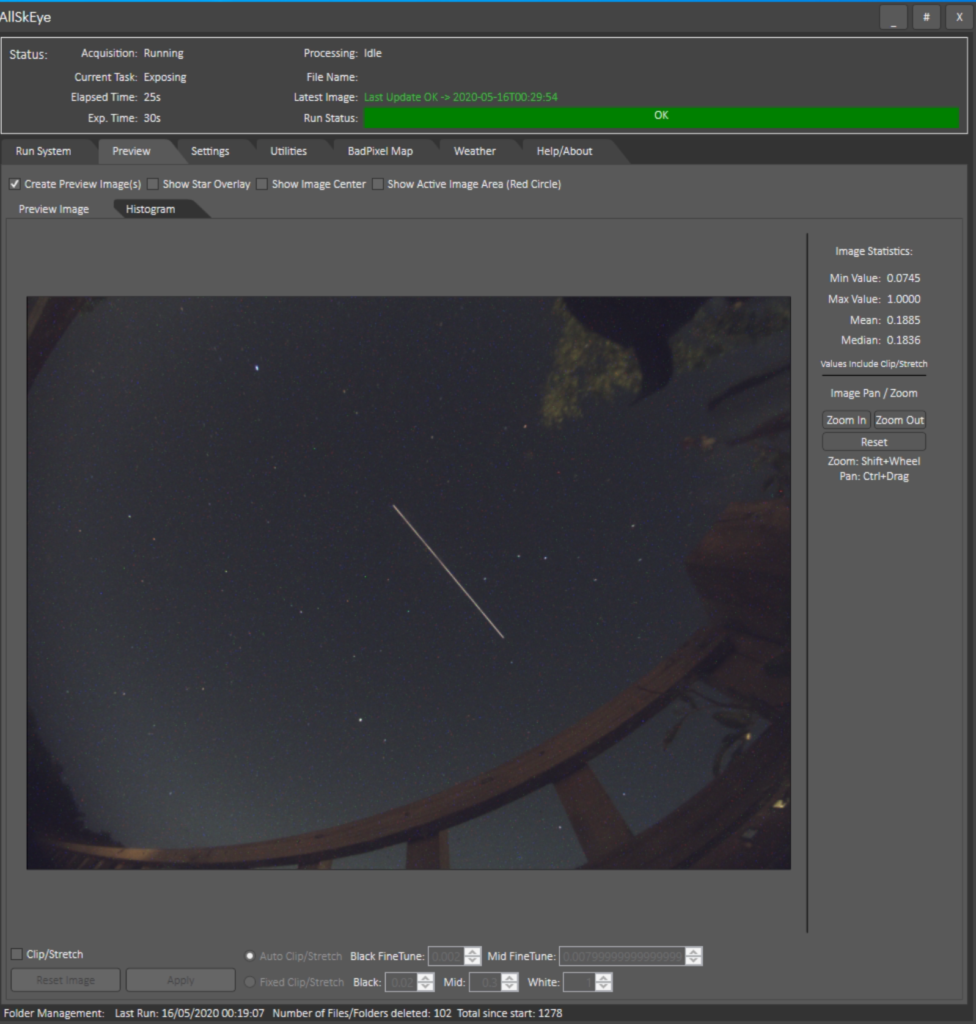 The new autofocus settings seem to work better. Anything less than 1500 step size would be less than the seeing, as proved tonight so I may find that 2000 is ideal, a test for another night. Also noted that Red filter was showing the worst HFR changes due to seeing and humidity was around 75%, again worthy of note to see how good the seeing is. The guiding was all over the place tonight, again another indicator of poor seeing. So all these things are not poor setup or poor software but poor seeing!
This I believe was the ISS going over captured in the ASC.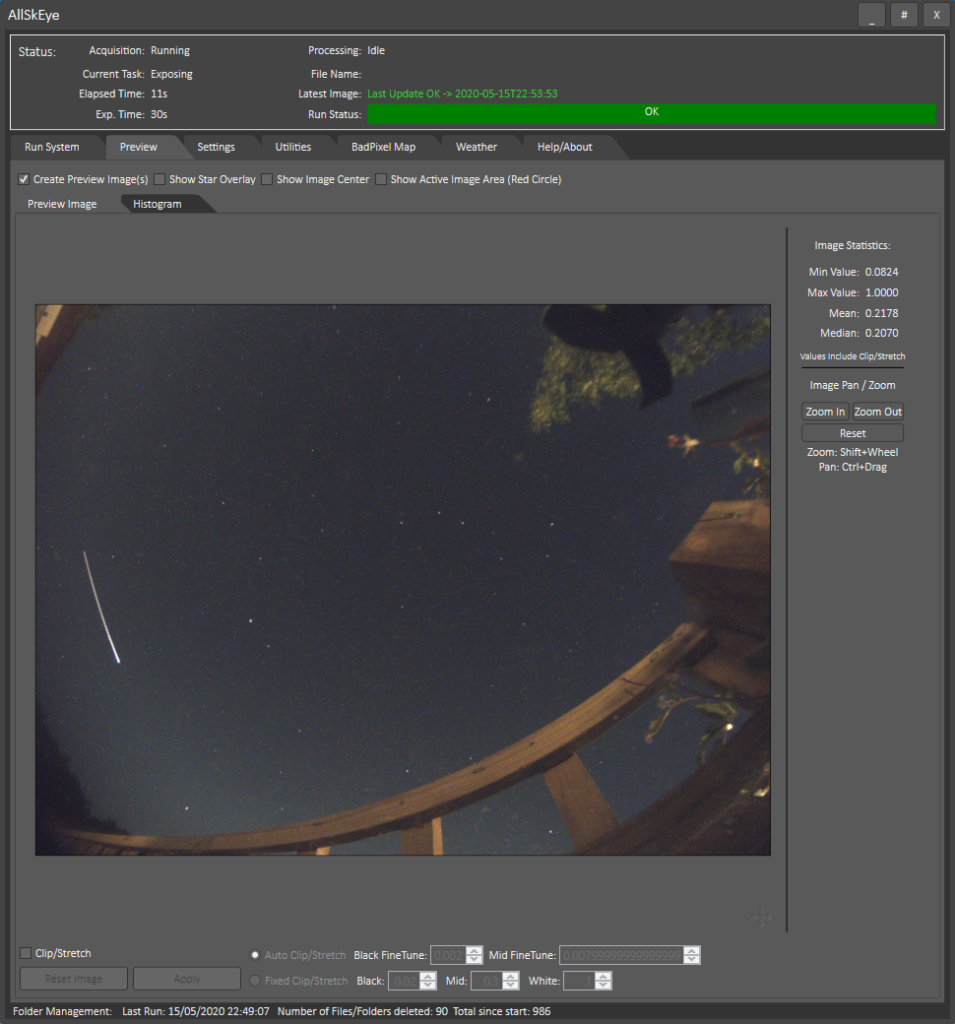 I was really pleased GingerGeek and I had spent time a week or so ago when the Moon was around working out the location of the Field of View (FoV) indicator on TSX, it makes it much easier to find a guide star, although tonight M98 had a couple strategically placed which was great.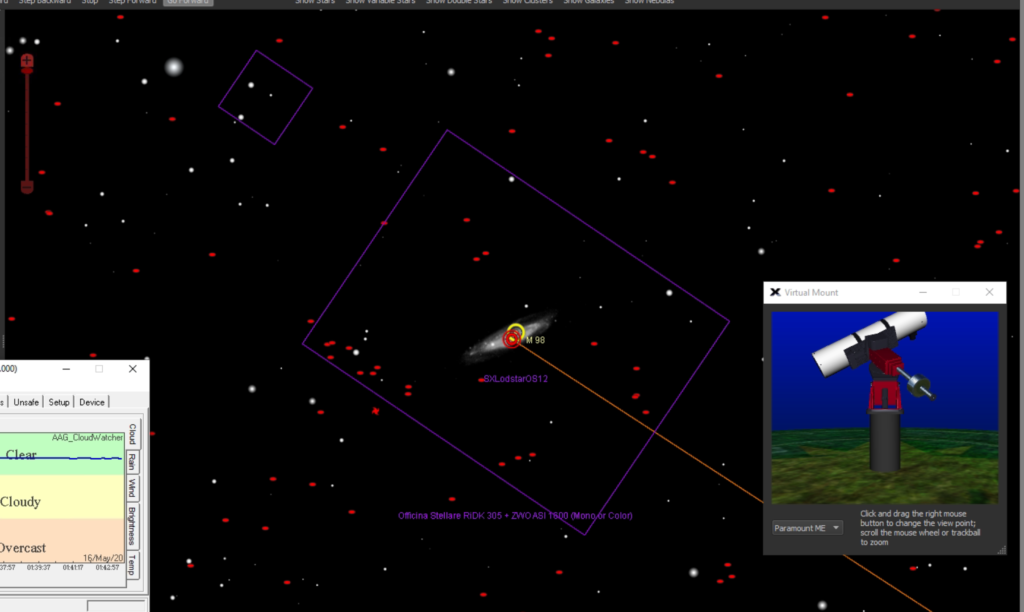 By 2pm the cloud had started to appear, first at South Winston with Steve's setup, then at Mil Dave's at Tadley and finally here some 15 minutes later. The guide star was lost by PHD and SGPro in a well ordered fashion did what it is really good at and stopped imaging.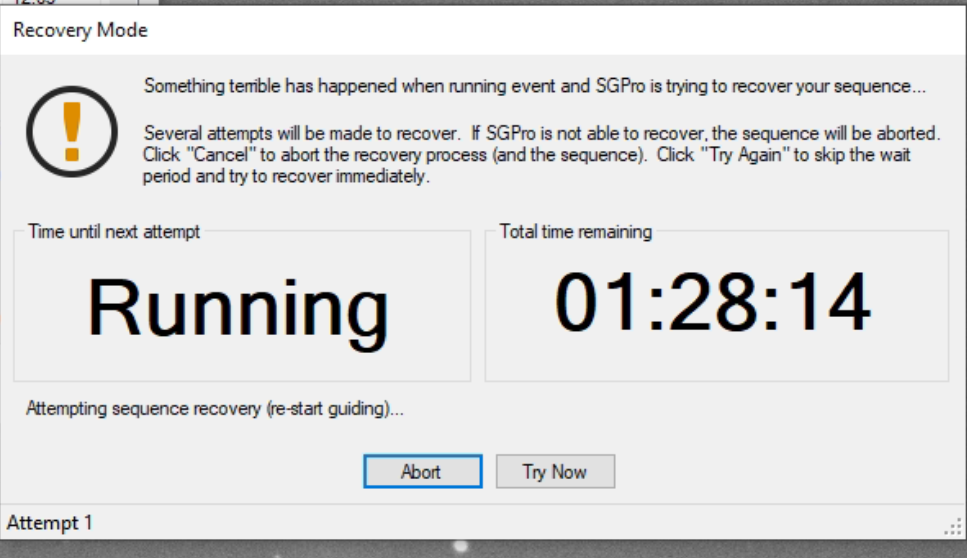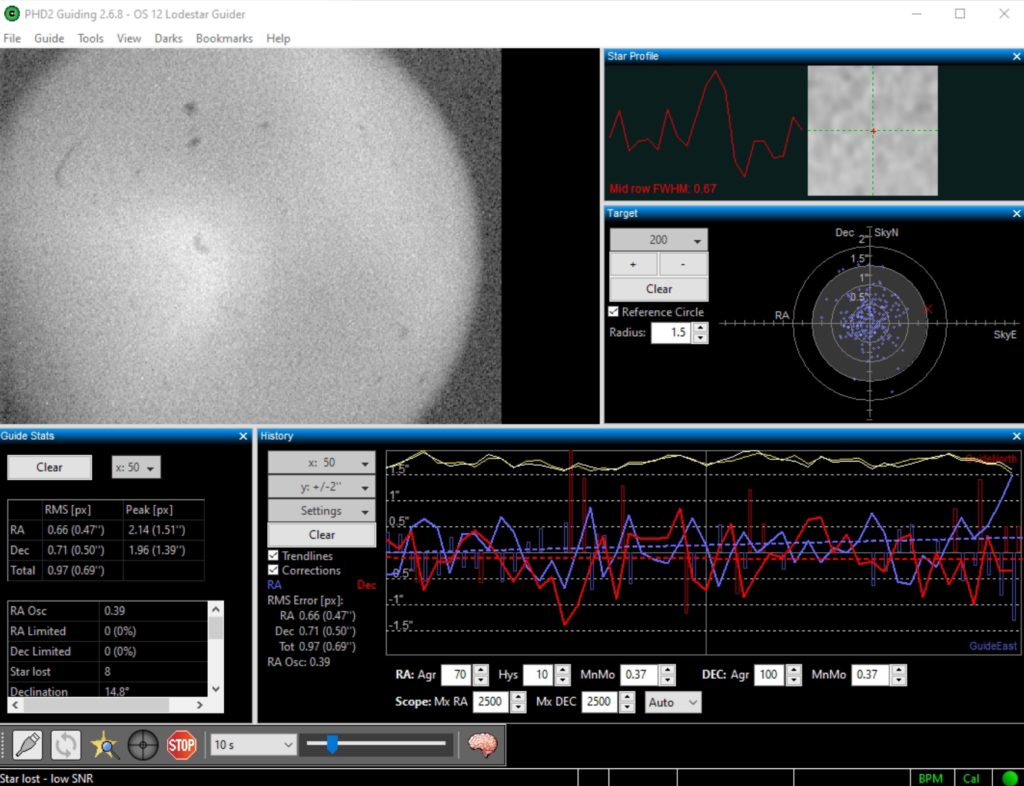 Here is where I got up to so LRGB on M98 for the night with 15 x Luminance and 12 x Red, Green and Blue was the original first image for each was there wrong exposure time, so RGB at 2mins and Luminance at 5mins. Very happy for an evening testing and gathering data at the same time.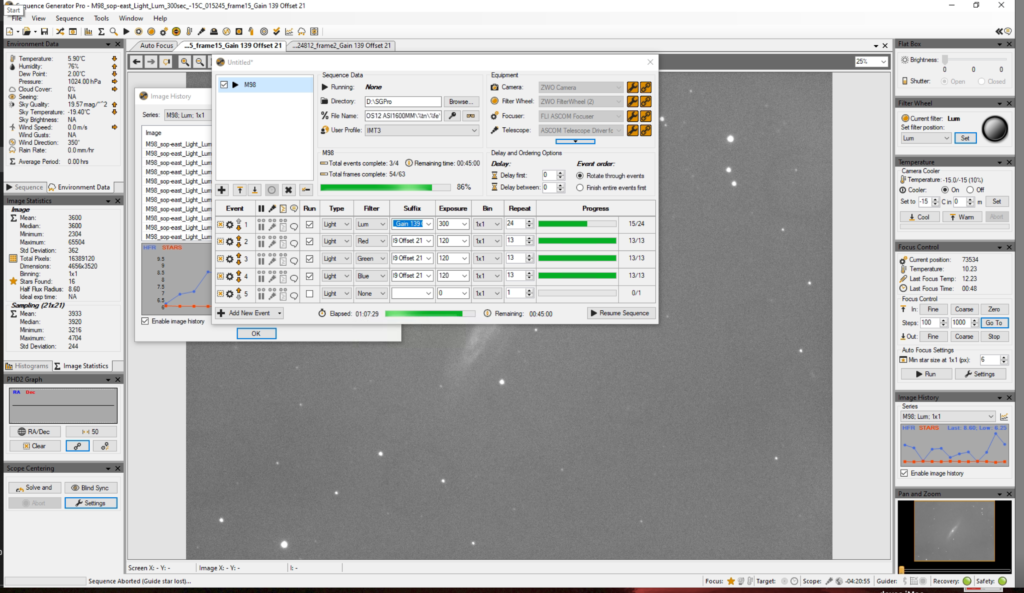 Here is a set of image statistics charts for each filter for the HFR changing over the evening whilst I refocused. Next time I will focus once and not refocus and see what happens with the temperature drop.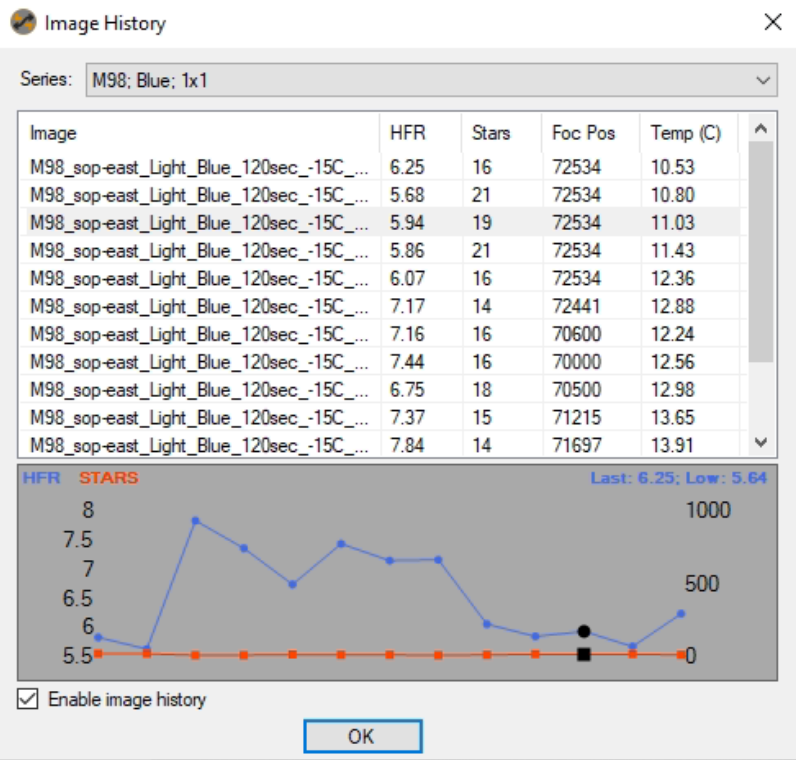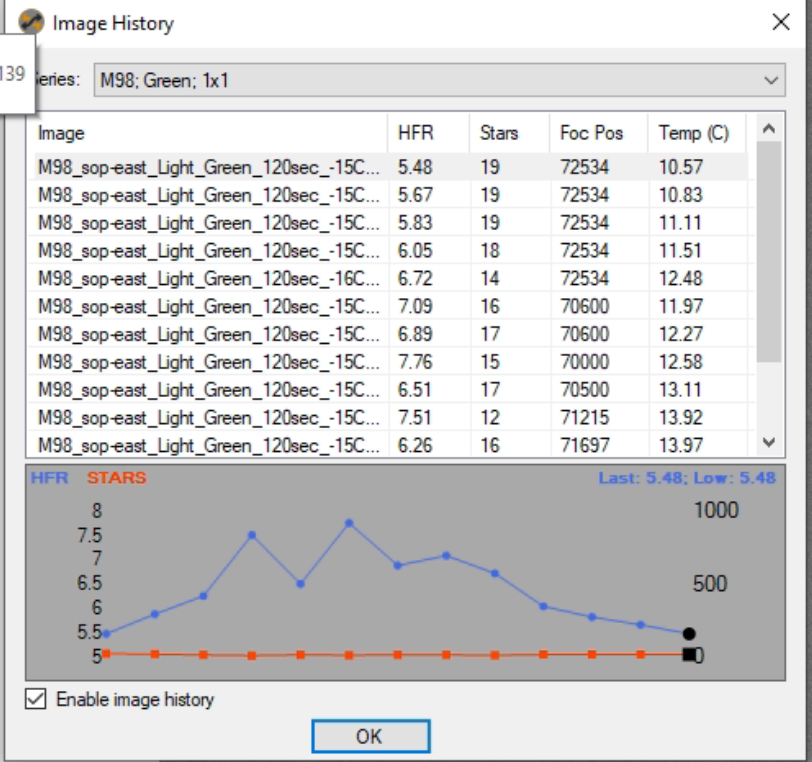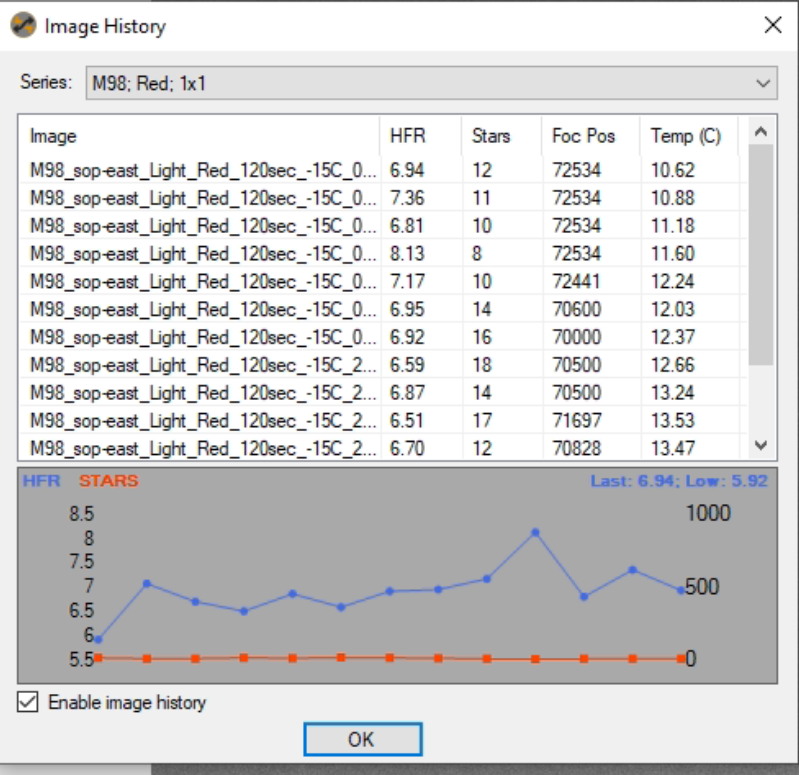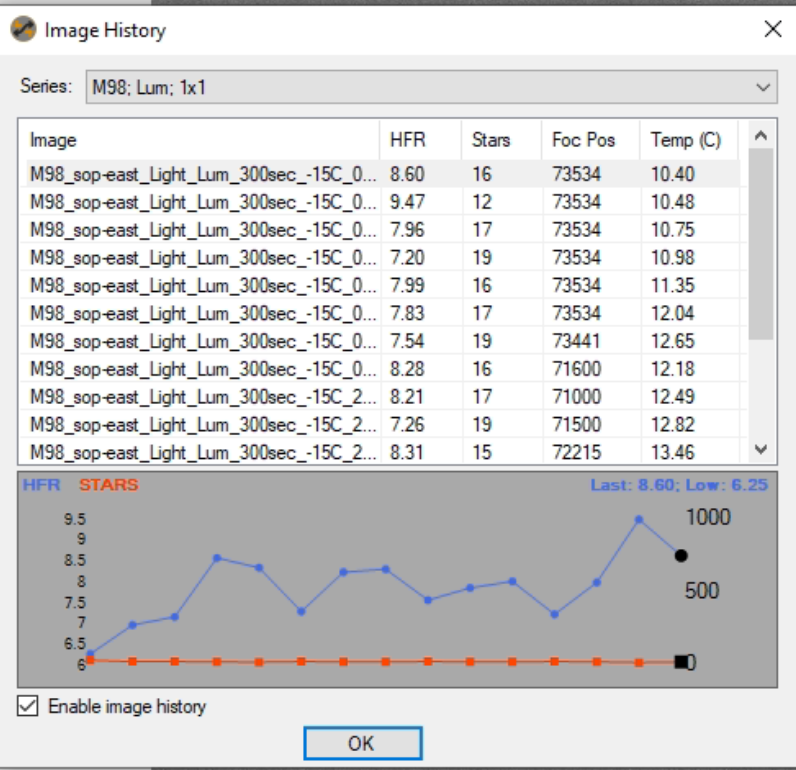 Final look at the AAG weather station as the cloud sensor which is Infrared makes the dome unsafe and shuts it.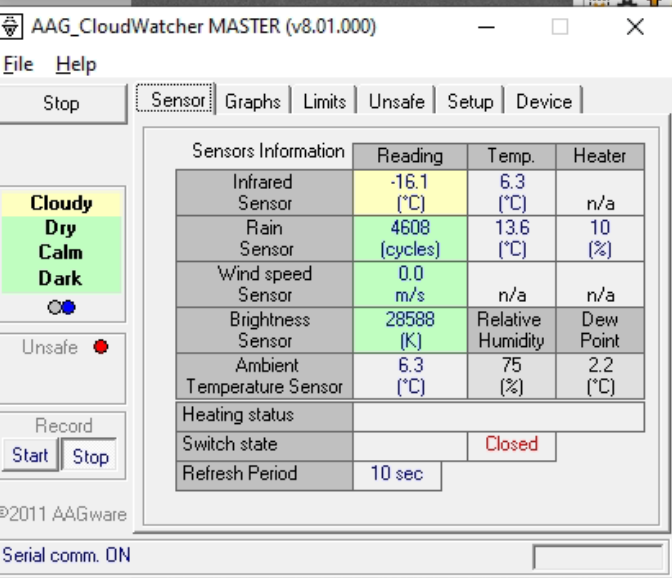 Here is the final view from the ASC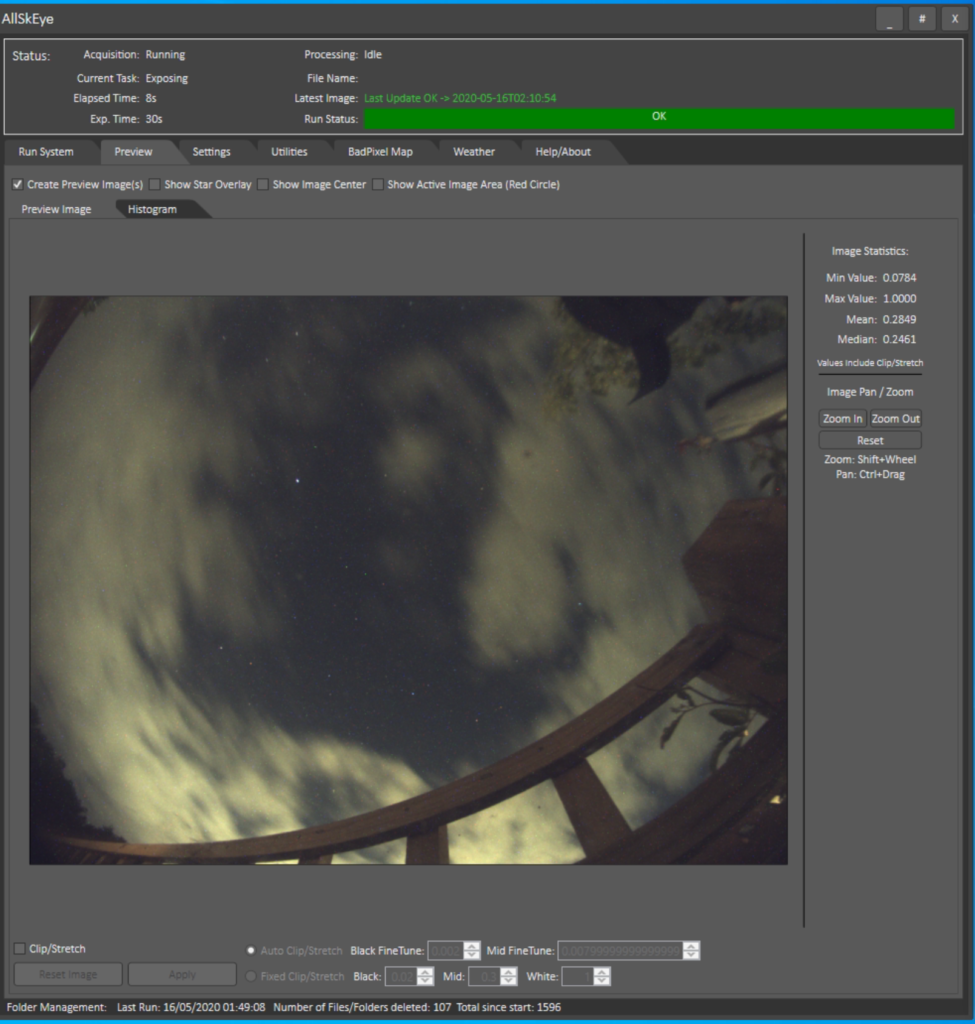 and of course to finish the evening off another satellite!